Best Pest Control In St. Charles County.
If a pest free home is your goal, call All Solutions Pest Control!
St. Peters Pest Control Services​
De-Web
Knock down and remove wasp nests and spider webs around the eaves up to 25-30ft.
Foundation
Liquid barrier around the property and the base of the home, and flower beds close to the home.
Granulation
Granulate around the home to extend the barrier of protection farther out into the yard. This also cuts down on the number of ants, ticks, and fleas around your yard.
Perimeter
Treat the perimeter of the yard to keep bugs from entering your property.
Walkways
Treat around the walkway where bugs cross into harborage areas
Doors/Windows
Treat accessible doors, windows, and entry points to your home.
Eaves
Treat the eaves for where bugs like to nest.
Why Choose All Solution Pest Control​
Locally Owned and Operated
All Solutions Pest Control is locally owned and operated. This means that any time you need us, we are here. We service all of the greater St. Louis area, including O'Fallon, St. Charles, St. Peters, Chesterfield, Maryland Heights, Wildwood, and most other St. Louis communities.
Pest control can be preventive or reactive. All Solutions Pest Control prevents and monitors pests in the area with every change in season. Keep your home or business protected from seasonal invaders with regular treatments from St. Peters termite and pest control services.
With All Solutions Pest Control, you find a pest control expert in St. Peters that is professional, knowledgeable, and dependable. All Solutions Pest Control will do what is necessary to get rid of those pesky bugs.
Pest Control St. Peters
All Solutions is proud to offer a professional residential pest control to St. Peters residents. We are very knowledgeable about local pests and what is necessary to eliminate them from your home. Our services include:
Home pest control and continued prevention
Bed bug control
Termite extermination
Rodent control
Most homes need a regular service to prevent pests from invading, which needs to be done at least quarterly. The initial service includes an interior and exterior treatment with emphasis on the following:
Treating along baseboards where insects like to hide as they move around
Treating any areas where plumbing enters your home as this is a favorite area for bugs to enter your home
Treating any cracks and crevices that might allow entry to pests
Examination and treatment of your basement area and garage.
Our first step is to flush out pests from their nesting areas in and around your home. Once your interior has been treated and is bug free, it's easier to keep new pests out.
Outside, where most bugs live and grow, we remove webs and nests from the eaves and bushes, then apply a liquid barrier around your home. We treat 2-3 feet from the ground up and 3 feet out from the foundation with a sprayer and then apply a granular product for an additional barrier around your home. This will keep bugs from returning and reclaiming their disturbed habitats. We give extra attention to doors, windows, any possible entry points and add an extra barrier to discourage unwanted guests.
You will find that once your home has been treated and is bug-free, keeping pests out is much easier. Following the initial pest control service, we return within 90 days to start your quarterly service to maintain this clean, pest-free atmosphere.
Continued Pest Protection​
The success of any pest control program is regular maintenance. All Solutions Pest Control provides you with a regular service program that will maintain this clean, pest-free atmosphere in your home. We return every 3 months to re-apply the exterior barrier around your home. This prevents insects from re-entering your living area and nesting. At any time, if you would like us to treat the inside of your home just let us know and we will do that free of charge. Our regular maintenance program includes a service guarantee that if you see bugs inside your home between regularly scheduled service we will come back to re-service at no additional cost.
Commercial Pest Control in St. Peters MO
We recognize that it is important to protect your St. Peters business from unwanted pests. Mice, cockroaches, ants and more are not just a nuisance, they can damage the structure of your building, spread illness, and cause concern to your customers and employees.
All Solutions Pest Control will prepare an individualized pest management program to address your specific needs. Our professionals will treat your business using integrated pest management strategies to accomplish complete protection with minimally invasive procedures. Our knowledgeable staff is familiar with regulations and restrictions for your industry and will insure an effective, satisfactory treatment for your business.
To learn more about our comprehensive programs and personalized options for your business, please contact us today.
SPECIAL PEST TREATMENTS
Termite Control St. Peters MO
Termites can be a very destructive force in a St. Peter's home or business. They love to tunnel their way into the structural wood and if left untreated can cause extensive and costly damage. The termite control professionals here at ASPC have a comprehensive termite program that uses the latest and most effective termite solutions available.
Call us today for a treatment of your home or business. Our highly trained service technicians will inspect your property, treat an active infestation and monitor against future termite invasions. Our knowledge and experience can help you protect your investment.
Why Choose All Solutions Pest Control
All Solutions Pest Control prides itself on being an honest, hard-working company that offers you the best service for your dollar. We are a family business owned and operated here in Missouri and we believe in supporting local businesses. We offer an unconditional guarantee to our customers, based entirely upon our client's satisfaction. Our treatments are safe and effective and will rid your home of bed bugs, rodents, termites, and other pests. Our program is designed to maintain a non-toxic setting that is safe for our family and your pets.
All Solutions Pest Control will work hard to provide you with a complete pest control program at a reasonable cost. We offer a worry-free guarantee* to insure that you receive quality service that you can count on. Please give our St. Peters pest control professionals a call today to see how we can help!
*ASPC guarantees that if at any time you feel unsatisfied or need additional service, we will return free of charge until the problem is resolved.
Pest Control St. Peters MO
The city of St. Peters is a great place to live! It offers affordable, quality living with top notch amenities and services. Rapid growth has transformed the original farming community into an official "Tree City U.S.A' with a suburban population and a dynamic economy.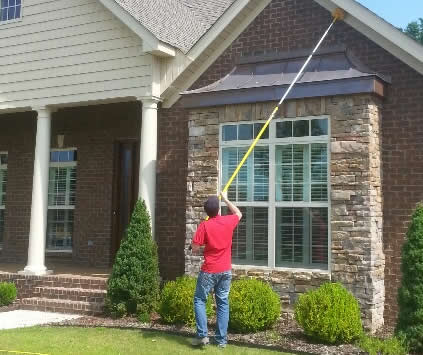 The magazine 'Money' has recognized St. Peters as one of the best places to live in America several times, with the city earning a #15 ranking in 2017. It has also been honored as one of the best small cities to start a business. With a world class work force, a business friendly economy, and government and local support, it's easy to see that St. Peters is doing it right.
Even with remarkable growth, the city has managed to hold on to Midwestern core values. They have a responsive city government with a vision for the future that includes improved transportation opportunities and better communication regarding services, programs, development and events. Members of the community can take advantage of an abundance of unique opportunities – the Rec-Plex recreation and fitness complex, Mid Rivers Mall, a strong veteran presence that brings increased recognition and respect for our country, and several community-wide events.
All Solutions Pest Control is a dynamic company on the same trajectory as St. Peters. We are growing and expanding our services, yet holding on to the values that have made us a success. We are a family owned and operated company who prides itself on superior customer service and individualized treatments.
Solutions for St. Peters and St. Charles County
In addition to providing local pest control in St. Peters MO, ASPC also services all of St. Charles county including
Give us a call today we would love to be your St. Peters pest control partner! 636-486-7888
44 Jason Ct, St Charles, MO 63304