Wildwood Pest Control Services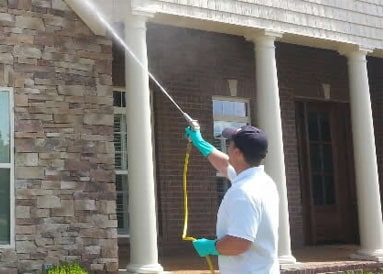 Wildwood was established in 1995 when the town incorporated after five years of effort, funding, and campaigning by concerned citizens. Our neighbors joined together to create the Wildwood community, founded on principles like environmental conservation, caring for our future, and sustainable, development for businesses and residents. Decades after its formation, Wildwood is now the largest city in St. Louis County, and the third largest city in the entire state of Missouri. Committed to the pillars on which it was founded, our town prides itself on preserving native natural spaces, such as woodlands, and the rural feel of our not so small town. In addition to helping the natural environment, Wildwood gives back to the community with dedicated programs in the public's interest and plans for future growth.
We at All Solutions Pest Control are also dedicated to the citizens of Wildwood and the growth of our community. We've had the pleasure of servicing our neighbors in Wildwood with exemplary customer service and a worry free guarantee. Here at our company, we're dedicated to making our town a better, pest free place to live.  Let our Wildwood pest control professional help, give us a call today!
Residential Pest Control In Wildwood
All Solutions Pest Control offers a wide range of pest control services to the Wildwood community.
Our services include:
Mosquito Extermination
Termite Control
Rodent Control
Ongoing Residential Pest Control and Prevention
Our initial treatment will cover both the inside and outside of your home. Our Wildwood pest control professional will assess your individual pest control needs by carefully inspecting your property, with special attention given to potential entryways for pests, like cracks or crevices, entryways to the home, baseboards and basements. Once our team has properly checked for signs of infestation, we will work you to create a plan to meet your treatment needs.
After your home has been thoroughly inspected, our pest control specialists will use the latest technology, such as our fifty gallon power sprayer, to completely treat webs or nests on the exterior. To ensure the removal of all pest habitats, special attention is paid to exposed foundation and outside eaves, and additional granular product is spread throughout the yard.
Following your first pest control service, our team will continue to protect your home from pests. Within thirty days, our pest control team will return and begin a quarterly pest control plan to ensure your home stays pest free.  If you are seeing any ants, spiders, wasps, or other insects give us a call today!
Continued Pest Protection
Our services come with a commitment—not only to completely remove pests, but to keep them away all with a service and rate that keeps our customers satisfied.  One way we uphold this commitment is by offering continued pest protection services with our quarterly service plan.
When you have our quarterly service plan, our pest control team will visit every three months and service the outside of your residence. If, at this time, you would also like the interior of your home treated, let our team know and we'll treat the inside of your home at no added cost. This solution not only keeps pest away, but if one manages to sneak in between treatments, just call us at All Solutions Pest Control and we will immediately completely treat your home—for free.  With our continued pest protection, pests, and worries, don't stand a chance.
Commercial Pest Control in Wildwood, MO
Business owners have many facets to manage, but a pest infestation can disrupt even the most organized business.  Pest can damage more than just infrastructure—they can damage the profitability of your business. By taking steps to safeguard your business against pests, you can get back to focusing on the things that matter in your business—and leave pest control to us at All Solutions Pest Control. We have knowledgeable, reliable pest control experts that can completely eradicate pests with minimal interruption to your day to day operations and incredible customer care.
Take steps to protect your business, and give us a call today. We'll provide information of our commercial pest management plans, and work with you to find which one is the best fit for your company.
Bed Bug Extermination in Wildwood, MO
Tiny pests can sometimes be the most difficult to remove, and this is the case with bed bugs. These small insects can hide so well that you may not even be aware of the infestation until it has grown out of control. Luckily, our pest control team is very familiar with bed bugs and the places the pests tend to hide. Our pest control team will thoroughly inspect your home, looking in bedrooms, living rooms, and all over the household for signs of bed bugs. After the inspection is complete, our team will work with you to find the pest control plan that meets your specific pest removal needs.
Our bed bug treatments are safe for both humans and pets while still being potent and effective. Our pest control team uses a steam treatment system to exterminate bed bugs throughout your home, and then applies the additional protection of a residual pesticide spray. To be sure of complete bed bug removal, our pest control specialists will cover your mattress with a specialized cover to shield it from potential bed bug pests. Learn more about bed bugs and our treatments here, and give us a call at the first sign of a bed bug infestation.
Termite Extermination
Termites can cause widespread and often devastating damage to your home or business in addition to the stress and potential danger caused by these tiny pests. Termites chomp and tunnel through structural wood, at best causing minor damage, and at worst needing widespread, costly repair. Structurally unsound homes or business even have the potential to harm someone, so treating a termite infestation as soon as possible, and reducing that risk, is in everyone's best interest.
By combining an individualized service program, cutting edge termite control technology, and accommodating customer service, All Solutions Pest Control has the most effective program to completely exterminate termites at your home or business. Learn more about termites, and how they spread, at our information center, and make sure to call us at the first sign of a termite infestation.
Why Choose All Solutions Pest Control?
At All Solutions Pest Control, we're concerned with the same issues that face Wildwood—how do we preserve our environment while still continuing to grow? For us, it's simple. Use the best products that are safe for families, and offer great customer service to our community.
We're so committed to doing what's right for our customers that we unconditionally guarantee* all services to our customers' satisfaction, and offer reasonable rates. Our family business has above all one goal—to service Wildwood in a way that fits your life—and your budget. You can count on All Solutions Pest Control to have effective, safe, and timely pest control services that put you at ease. Call us today, and help to keep Wildwood pest free.
Solutions for Wildwood and West Country
In addition to providing local pest control in Wildwood, ASPC also services all of St. Charles County and most of West County including:
Give us a call today we would love to be your Wildwood pest control partner! 
636-486-7888
44 Jason Ct, St Charles, MO 63304