Best Pest Control In St. Charles MO and West County!
If a pest free home is your goal, call All Solutions Pest Control!
Why Choose All Solutions Pest Control
Locally Owned and Operated
All Solutions Pest Control is locally owned and operated. This means that any time you need us, we are here. We service all of the greater St. Louis area, including O'Fallon, St. Charles, St. Peters, Chesterfield, Maryland Heights, Wildwood, and most other St. Louis communities.
Pest control can be preventive or reactive. All Solutions Pest Control prevents and monitors pests in the area with every change in season. Keep your home or business protected from seasonal invaders with regular treatments from St. Peters termite and pest control services.
With All Solutions Pest Control, you find a pest control expert in St. Peters that is professional, knowledgeable, and dependable. All Solutions Pest Control will do what is necessary to get rid of those pesky bugs.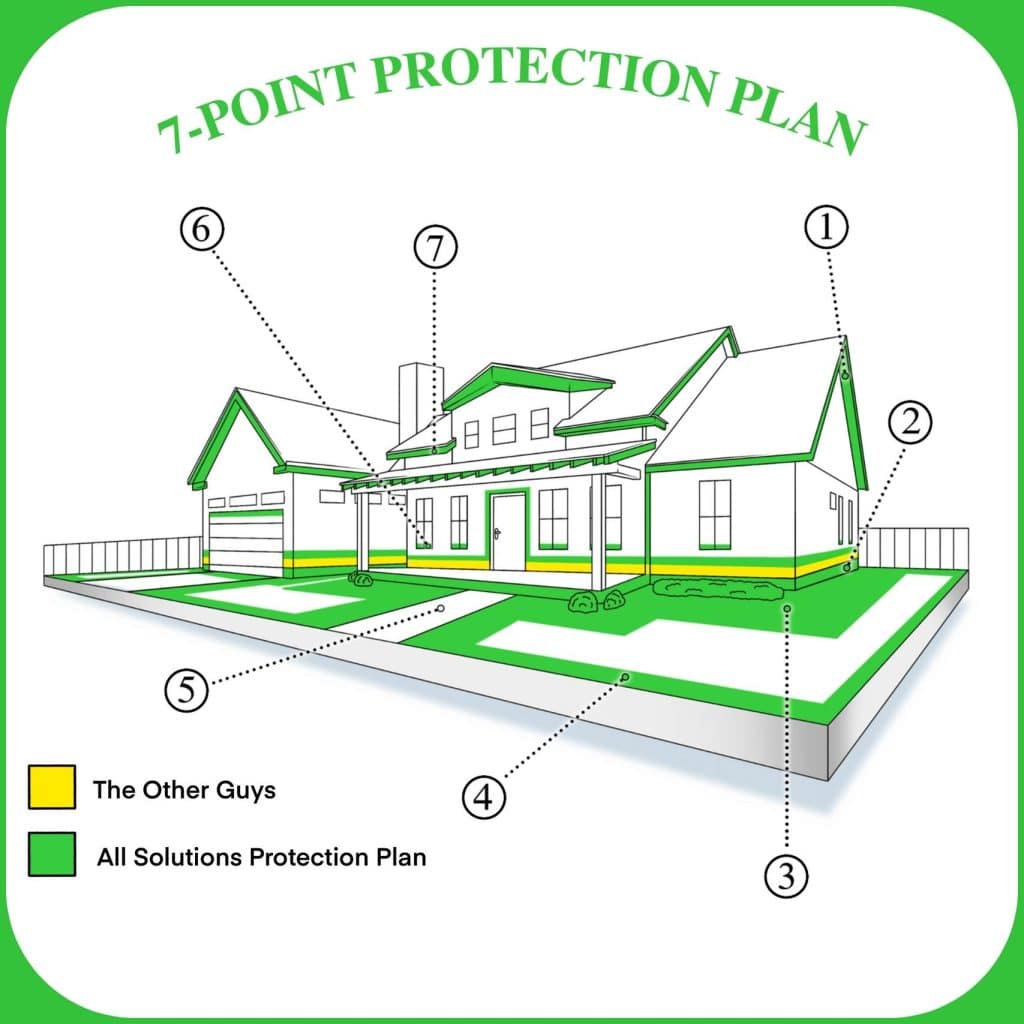 1
De-Web
Knock down and remove wasp nests and spider webs around the eaves up to 25-30ft.
2
Foundation
Liquid barrier around the property and the base of the home, and flower beds close to the home.
3
Granulation
Extend the barrier around your home, to cut down on the number of ants, ticks, and fleas around your yard.
4
Perimeter
Treat the perimeter of the yard to keep bugs from entering your property.
5
Walkways
Treat around the walkway where bugs cross into harborage areas
6
Doors/Windows
Treat accessible doors, windows, and entry points.
7
Eaves
Treat the eaves for where bugs like to nest.
The Technician Addressed All My Concerns And Was Professional As He Went About His Business. I Have Been With You All For Over A Year Now And Have Always Had Good Service. No Complaints!
He Was An Exceptional Young Man. Exceptionally Polite And He Did A Fantastic Job. I Hope He Comes Again To Service My Home. I Would Give Him A 100 Instead Of 5 Stars. God Bless You Tyler!!
I have been using this service for about 2 years now and they are always great! They come out quarterly to spray outside and upon request for inside or extra outside. They always do a great job and take care of any problems. They are quick to be available for appointments and always arrive within the set window appointment. I'm very happy someone came to my door to give me info on this company!
We've been using All Solutions Pest Control for 3+ years and the company, the technicians and the service is always professional and top notch. This service/inspection did a great job, as expected They always do a great job and take care of any problems. They are quick to be available for appointments and always arrive within the set window appointment.
Very Thorough. We Have Not Had Any Pest Problems Since Using Them For Over 5 Years.

Ants will, in general, eat protein. If you have swarms of ants in your dog run, for instance, they are probably eating the feces, because it is rich in protein. They also eat termites. In fact, ASPC will look for ants in your house. If you see ants in your bathroom, for example, it may not just be because of the moisture and the sugar in your toothpaste.

Spider control not only keeps your family and pets safe, it eliminates a great deal of debris around your house. There are two poisonous spiders that live in the St. Charles area, but many of the species around here can produce a painful bite that is dangerous to anyone allergic to the venom. Read more about spiders and pest control in St. Peters
No one wants termites at their home. You will not usually know that you have termites until they are out of control.  At All Solutions Pest Control, we will do a termite inspection to locate where they are coming from. We also offer preventative bait stations to stop them before they start. Call us today to help with your termite control needs.

There are three basic species of cockroaches that populate the St. Peters area. All three of them can carry diseases and contaminants. Each eat human food and reproduce quickly. For more information about controlling cockroaches in St. Charles, read more.

No one wants mice in their homes and mouse control can be a sensitive subject. Many people want humane control of these rodents. At All Solutions Pest Control, we will work with the homeowner to make sure you are satisfied with our pest control methods and to keep your home free from rodents.

Fleas and ticks carry diseases that can sicken both humans and animals, and can be very hard to get rid of. A flea will be as small as 1/32 of an inch and upwards of 1/16 of an inch. They have hard, flat bodies, and are very hard to crush. They do not have wings, but can jump tremendous distances.