Pest Control Chesterfield MO
Chesterfield Pest Control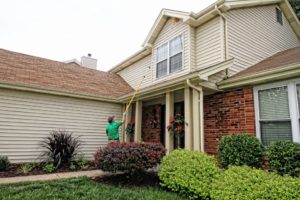 Our community of Chesterfield, Missouri was founded in 1988 by several dedicated citizens taking political practices into their own hands and uniting the smaller communities of West County and creating one of the greatest suburbs in the Midwest. Voted one of the top 10 towns to raise a family in 2011 by Missouri Life Magazine, Chesterfield has thrived as a community of just shy of 48,000 denizens, and recently celebrated its 25th anniversary of incorporation.
Pest Control Chesterfield MO
Chesterfield's main valley, also called "Gumbo Flats", flooded in 1993 due to the failure of a levee, but the town's inventive inhabitants turned lemons into lemonade by created the Chesterfield Commons, a center of commerce. This "Creative Community", as deemed by Missouri Arts Council in 2011, is home to the Chesterfield Amphitheater and several parks and trails including Veterans Honor Park and Rivers Edge Park. Chesterfield is also a travel hotspot in Missouri, housing not only Spirit of St. Louis Airport, but with Interstate 64 running through the town.
At All Solutions Pest Control, we strive to embody the optimistic spirit and commitment to hard work found here in Chesterfield, Missouri. Our family owned and operated company treats customers with respect, provides quality service to our community, and offers customizable, unparalleled service. We hope to give back to our thriving community by holding a commitment to excellence, because we don't just service here—we are part of Chesterfield too!
Residential Pest Control In Chesterfield
All Solutions has a comprehensive list of pest control services available to Chesterfield residents. Our services include the following:
Ongoing residential pest control and prevention
Bed Bug Control
Mosquito control
Termite Extermination
Rodent Control
Initial treatments cover both the interior and exterior of your home. No area is left unchecked as we check no only your baseboard, basement, areas where plumbing may enter your household, your garage, and even cracks and crevices other pest control companies may overlook. We are thorough in our approach to ensure the removal of pests and their nests from your home.
We use our top of the line equipment, such as a 50 gallon power sprayer, to remove outside wasp nests and spider webs and create a liquid barrier around your household. Eaves, foundation, and any exposed areas that may harbor pests are doused in product to get bugs out, and keep them from coming back. All Solutions Pest Control pays specific attention to entryways, windows, and doors by adding additional product, and spread additional granular product throughout your yard to ensure complete removal of all pests, and prevent them from returning.
After treatment, you can relax knowing your home is not only bug-free, but that you are in our capable hands. Within 30 days of our initial service, we visit again to start a quarterly service to make sure your home remains free of all invading pests.
Continued Pest Protection
All Solutions Pest Control reinforces our commitment to your pest free home by providing customers with a quarterly service program. Regular maintenance will help to create a clean household free of unwelcome guests, and uphold the quality service we provide.
With our quarterly service program, every 3 months our team will return to your household and reapply exterior treatments to entry points to your home to prevent pests from returning. If at this time you would like the interior of your home treated as well, just let us know and All Solutions Pest Control will be happy to do that—free of charge. If you happen to see pests inside of your home between your scheduled services, make sure to let us know and we will be happy to provide a re-service at no additional cost. Your happiness is our top priority, and we want you to feel reassured that All Solutions Pest Control will stand by you as your Chesterfield pest control professionals.
Commercial Pest Control in Chesterfield, MO
Business owners in Chesterfield want to do everything possible to ensure their business's success, and that includes protecting your business from the potentially devastating effects of pests. By creating a pest control plan with our company, you can be reassured that your business won't be undermined by tiny pests.
All Solutions Pest Control will prepare a specific pest management plan that focuses on your individual needs and utilizes integrated pest management strategies to provide complete pest protection with minimal interruption to your business. Our professional team understands restrictions and regulations for individual industries, and can customize a plan to completely remove pests while following guidelines to the letter.
Please contact us today to learn more about our comprehensive commercial pest control options. Your clients will appreciate your attention to detail as you offer them a clean, pest-free area.
Bed Bug Extermination in Chesterfield, MO
The bed bug epidemic is not only widespread, but notoriously difficult to get rid of. These tiny pests can hide in the most innocuous of places, and do it yourself pest control remedies are rarely enough. Our team will thoroughly inspect your furniture including mattresses, couches, bed frames, box springs, and other furnishings to determine the presence of bed bugs. We will then work with you to create a treatment plan to meet your needs, and get rid of bed bugs—for good.
Our bed bug treatment plan is safe for pets and humans alike while maintaining peak effectiveness. We use a top of the line steam treating system to clear all parts of your bedroom, furniture, and any other bed bug hotspots. All Solutions Pest Control then follows up with a residual pesticide spray to ensure complete extermination, and encase your mattress to allow you to rest easy—and pest free. Learn more about bed bugs here, and start to take actions to protect your home from these tiny invaders.
Termite Extermination
Termites can cause extensive damage for businesses and households alike. These tiny bugs may live nearby and then travel to your property by tunneling through structural wood. This costly, and potentially dangerous, infestation can become worse with time, so be proactive and call us to schedule an inspection at the first sign of termites.
Our company has created a specialized termite extermination program combining the latest technology and our unparalleled customer service. Our service technicians will evaluate your property, treat a termite infestation, and actively monitor your home or business against termites.
Why Choose All Solutions Pest Control?
Here at All Solutions Pest Control we focus on what's important—integrity, protecting our community from pests, and putting our customers first. We are a family owned and operated business that is not only local to Missouri, but offers quick response times and effective treatments. All of ASPC's services are unconditionally guaranteed* to the customer's satisfaction and our pest control experts are professional, knowledgeable, and certified. We use safe and effective treatments to rid your home of bed bugs, termites, rodents and other pests while protecting your family, home, and business.
All Solutions Pest Control will help you to create an effective pest control solution at a reasonable rate. Our worry-free guarantee ensures that our team will not only effectively exterminate pests, but provide quality customer service for your family or business. Give ASPC a call today, and let pests be a thing of the past.
Solutions for Chesterfield and West Country
In addition to providing local pest control in Chesterfield, ASPC also services all of St. Charles County and most of West County including:
Give us a call today we would love to be your Chesterfield pest control partner! 
636-486-7888
44 Jason Ct, St Charles, MO 63304