Pest Control St. Paul, MO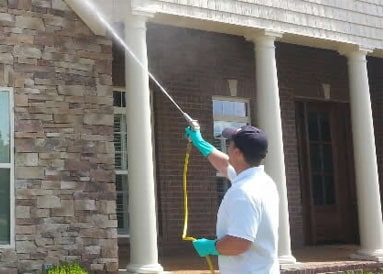 Near the edge of the St. Louis metropolitan area is a place that places a premium on country estate-style living. St. Paul is a quiet town where people value their privacy. Yet the sights and sounds of the big city are just a short drive away. In other words, if your family or business wants a small town atmosphere with big city conveniences, St. Paul might be the place for you.
This same combination drives us forward at All Solutions Pest Control. Our business is built upon solid values, like hard work, open communication, and dedication to excellence, which has served many businesses very well for many years. At the same time, we have access to the latest techniques and tools which help us control even the most stubborn pest infestations. Tasks which were difficult to accomplish a decade ago are now fairly routine matters. Nevertheless, the sooner you reach out to us, the better the results usually are.
Our Approach
Over the years, we have developed both our service skills and our technical skills. To control stubborn pest infestations, your St. Paul pest control provider must have both these things.
Just like you, we go about or business efficiently and quietly. When we come to your door, we have all the tools necessary to get the job done. That means no delays and no broken promises. Furthermore, we know how disruptive a pest infestation can be. So, instead of adding more confusion to your day, our team members simply do their jobs.
As a result, unlike some other pest control firms, we guarantee our methods and our results. In the unlikely event you are dissatisfied with our approach or its outcome, we will do what it takes to make things right.
Finally, we are a locally owned and operated firm. That makes us a lot different from a branch office of a nationwide corporation. These technicians usually have set ways of doing things. But at All Solutions Pest Control, we are responsive to your needs. We tailor our approach based on your situation. That level of customization, which drastically improves results, is usually unavailable elsewhere.
Pests We Treat
Largely because of the wide open spaces in these communities, families and businesses in semi-rural areas like St. Paul often have significant pest infestation issues. These pests often threaten peoples' physical health, as well as their mental health. Some examples include:
Spiders: A single bite from a few Missouri spiders could cause serious injury or death. Furthermore, spiders are scary, especially to people with arachnophobia (unnatural fear of spiders). These pests usually crawl through tiny cracks and other portals to seek food and shelter in your home or business.
Roaches: Frequently, these vile creatures lived in sewers or other such areas before they invaded your home or business. So, there is no telling what manner of filth they carry inside. As with most other pests, if you see one roach, you probably have a serious infestation. Roaches have been around for millions of years, so they can survive almost anything.
Ants: Scientists believe there are about one million ants for every person in the world. So, if your home or business has any food or shelter to offer, a serious infestation is almost inevitable. Rightly or wrongly, many people associate ants with uncleanliness. Indeed, the more cluttered your home or business is, the more likely you are to have ants.
Mice: Once these destructive pests sense a food source, they will chew through almost anything to reach it. Furthermore, rats and mice often chew furniture, insulation, and other non-food-related things in order to build their nests. Eating and breeding are about all these creatures do.
Ticks and Fleas: Many people incorrectly categorize these bugs as outdoor pests. But when your pets come inside, guess what they carry with them. If one of the hitching bugs was a pregnant female, there is no telling how many of these parasites might be in your home just waiting for a host to come near them.
All these infestations have a common theme. It is essential to treat pest entryways, as well as the places where these pests nest. Frequently, a combination of gels and traps works very well in these situations. 
Residential Pest Control St. Paul, MO
Depending on the nature of the infestation, our residential pest control treatments usually focus on outdoor nesting areas, entrances, and indoor hiding places.
Mice are a good example. Field mice are not cute and fuzzy. They usually carry more diseases and parasites than rats. Furthermore, wherever mice scurry, they leave trails of waste material. So, it's critical to eradicate these pests as quickly as possible.
Early signs of an infestation include scurrying noises inside walls, chew marks, and droppings. If you see such evidence, reach out to us straightway.
Once our technicians arrive, they usually focus on outdoor nests. These areas are difficult to locate, and only experienced St. Paul pest control professionals know how to spot them and how to treat them. Entrances are important as well. A mouse can squeeze through an opening the size of a dime. Once we turn our attention inside, we usually focus on dark corners and other places where mice often find shelter.
Commercial Treatment St. Paul, MO
We use this same basic approach at your business. However, at All Solutions Pest Control, we add a critical additional ingredient to the recipe.
Follow-up treatments are a big part of our commercial and residential treatments. Part of the aforementioned outdoor activity includes laying an invisible barrier around your property to deter future pest migrations. Maintaining this barrier is usually the key to preventing further infestation. So, we normally recommend either monthly or quarterly treatments.
If you need pests gone now, contact us now.
Solutions for St. Paul and St. Charles County
In addition to providing local pest control in St. Paul, ASPC also services all of St. Charles county including:
Give us a call today we would love to be your St. Paul pest control partner! 
636-542-8266
1001 Boardwalk Springs Place, Suite 111B O'Fallon, MO 63368