Foristell, MO Pest Control Services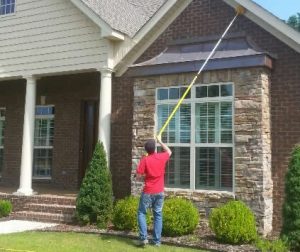 Our town of Foristell, Missouri was started as a small colonial town called "Millville", but has grown to incredible esteem over the course of the past century. During the American Civil War, Millville developed as it built mills and factories, and changed its name to Foristell in 1875. Soon after, Foristell thrived as a bustling railroad town. Several decades later, Foristell became city we know and love today.
The flourishing community of Foristell is known for its sprawling greens and up and coming status as a center of commerce. Here in Foristell, it's truly the best of both worlds, having a "small town feel" while being so close to different transportation hubs and a growing business community.
At All Solutions Pest Control, we combine the best of both worlds found here in Foristell, Missouri. Our family owned and operated company treats customers with care, provides quality service to our growing community, and offers service plans tailored to fit your needs. We strive to serve our growing community while maintaining the small town values Foristell holds near to our heart. Let us be your Foristell pest control professional.
Foristell Residential Pest Control
All Solutions has an inclusive list of pest control services available to customers living in Foristell. Our services include:
Rodent Control
Mosquito Extermination
Bed Bug Extermination
Ongoing Residential Pest Control and Prevention
Our first treatments cover both the interior and exterior of your residence. Your entire household is carefully inspected for pests in even the smallest of entryways, baseboards, or any cracks or crevices. We pride ourselves on our attention to detail, because we don't only service the Foristell community—we're part of it.
Following a thorough inspection, we use our top of the line equipment, such as a 50 gallon power sprayer, to remove any outside webs or nests that may house pests and prevent them from returning. Small enclaves, exposed foundation, and all other areas that may create shelters for insects are sprayed with product to remove them from your residence and keep them from coming back. Here at All Solutions Pest Control, we know it always pays to pay attention to detail, spraying all doors, windows, and entryways with an additional layer of product and spreading granular product across front and backyards to make sure all pests are taken are of.
Following initial treatment, put your mind at ease as your home is not only free of pests, but under our company's continued care. Within 30 days of your first service, our team will return to start a quarterly service to make sure your home remains free of any possible pests.
Continued Pest Protection
At All Solutions Pest Control, we keep our commitment to keeping you free of pests by providing our customers with our quarterly service plan. We can implement proper maintenance procedures together can keep your household free of unwelcome guests at an affordable rate. With our quarterly service program, every 3 months our team will return to your household and reapply treatment products to the exterior of your home to prevent the reoccurrence of pests.
If at this time you'd like the interior of your home treated, just let us know and the All Solutions Pest Control team will be happy to do so at no additional cost. If you observe pests inside of your home between scheduled services, give us a call and we will provide an additional re-service—for free. Customer care is our number one priority, and we want you to feel not only completely satisfied with the treatment of your household, but completely at ease in a pest free home. If you are seeing any of those ants, spiders, silver fish, or other bugs give us a call today! We are your local Foristell pest control professionals.
Commercial Pest Control in Foristell, MO
Owning a business isn't easy, and the last obstacle business owners need to face is an infestation of pests. Not only can pests damage sales, but they can potentially damage your storefront—and bottom line. By creating a pest control plan with us at All Solutions Pest Control, you're not only protecting your place of business- you're protecting the business you have worked so hard to build.
Our team at All Solutions Pest Control will create an individualized pest management plan to not only completely remove the problem, but to do so minimizing interruption to your daily business practices. We pride ourselves on having a team that is not only educated in pest control rules and regulations, but that treats your business like our own—with care for customers and attention to detail.
Contact us today to learn more about our complete commercial pest control plans, and we'll find an option that's right for your budget and your business, all while keeping your commercial space pest free.
Bed Bug Extermination in Foristell, MO
Bed bugs are some of the most difficult pests to remove from your home or business. These tiny insects hide in the smallest of spots, and you can have an infestation on your hands without any visible clues! Luckily, we have plenty of experience dealing with bed bugs. Our team will carefully inspect your home, looking not only around your bedframe and mattress, but throughout all furniture and tight spaces that may hide bed bugs. After assessing a possible infestation, we'll work with you to tailor a treatment plan for your home, and make sure it's bed bug free.
Our bed bug treatment products are safe for all members of your family—humans and pets—while still being the most effective treatment possible our team uses a top tier steam treatment to completely remove bed bugs from all rooms in your home, and then apply a residual pesticide spray to keep bed bugs away. We complete a treatment by encasing your mattress in a protective cover that keeps bed bugs off, and you at ease. Learn more about bed bugs here, and call All Solutions Pest Control to help your home be free of bed bugs.
Termite Extermination
The damage termites cause can be widespread—not only can dealing with termites be incredibly stressful, but they can permanently damage the foundation of your home or business. These pests, while small, are powerful and can cause severe structural damage in the wood they tunnel through. While these pests are potentially destructive, this damage to your home could prove dangerous, so taking immediate action is crucial. Call us at the first sign of termites, and put your mind, and foundation, at ease.
By combining the latest in termite control technology, a service program created just for you, and our unparalleled customer service, we'll clear out termites effectively and safely. Our team will inspect your home or business, treat an infestation of termites, and continually check your residence for these destructive pests.
Why Choose All Solutions Pest Control?
Here at All Solutions Pest Control, our focus is on much more than just our sales— we value our customers, and we value Foristell as our community. That's why we have such dedication to our customer's happiness that we unconditionally guarantee* all services to our customers' satisfaction. We're a family owned and operated business that only uses certified, knowledgeable, and professional service technicians to rid your home of bed bugs, rodents, and other pests. We pride ourselves on timely response and safe and effective treatments for your home or business. All Solutions Pest Control is who you can call for all of your pest removal needs at a reasonable rate and unparalleled customer service. Our worry-free guarantee makes sure that you get top notch service at a price that works for your budget. So be sure to contact us today, and get to living pest—and worry—free.
Solutions for Foristell and St. Charles and L
incoln
 County
In addition to providing local pest control in Foristell, ASPC also services all of St. Charles county including:
Give us a call today we would love to be your Foristell pest control partner! 
636-229-1395
44 Jason Ct, St Charles, MO 63304