Flea Control St. Peters MO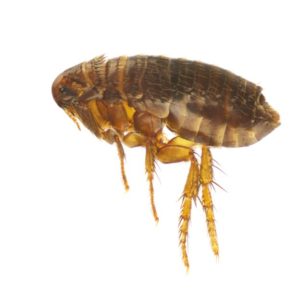 When fleas get into your home, no one is happy. These fleas can carry a lot of diseases and may make everyone sick in your home. Finding a way to remove the fleas as quickly as possible is often the best way to keep you and your family as safe as possible. At All Solutions Pest Control, we can provide you with the flea control you need in St. Peters, MO.  Give us a call today so we can be your local St. Peters pest control professionals. 
What Attracts Fleas to My Home?
There are a number of things that are going to attract fleas into your home. They often find their way into homes and other properties on the hair of your pets. Since pets can carry these fleas in their fur without detection, it is possible for the fleas to get in and cause a lot of problems in no time. Making sure that your pets have flea control on them, usually with a little solution that is put onto them, you can keep the fleas away and keep everyone safe.
However, while pets are the most common way that fleas will get into your home, these pests can find their way in through other methods. They can get into the hair and clothes of humans as well. If you are out in the woods walking around or somewhere that has fleas often, then you need to get checked and clean everything out ahead of time to make sure the fleas can't get into your home.
How to Remove Fleas?
If you suspect that fleas have found their way into your home, there are a few things that you can do to provide flea control for your whole home. First, you should check your pets. See if they are carrying the fleas and then treat them for it. There are medicines available as well as a flea collar that can help you remove the fleas with no problem.
Once that is done, you need to do a good vacuum of the whole home. This will help kill most of the adult fleas, eggs, and young fleas as well. You need to also move around the furniture to really clean it up, and use the attachment on the vacuum to make sure that you get the edges and all the other parts of the room. Be as thorough on this as possible.
Next it is time to wash all the linens. This is where you should be overly cautious and just clean everything. It is easy to assume that you should just handle the stuff that your pets were on. But just clean everything. Normal laundry detergent is going to be fine for this, but just get it all cleaned to avoid the fleas coming back.
Many of these remedies can work to remove the fleas from your home. However, you may just want to work with flea control in St. Peters, MO to make things easier. The right flea control will ensure that you actually remove the fleas and they will not come back or get worse later on. Contact our professionals right away to see what flea control we can provide in the area.
Do I Need Professional Flea Control in St. Peters, MO?
There are a lot of different things that you can do to try and control the fleas that are in your home. But once the infestation starts to grow, it is time to hire some of the professionals to get it done. The right company will be able to take a look at your problem and remove all of the fleas so none are left behind. This will limit the likelihood that you will have another flea infestation in the future.
If you have a flea problem in your home and need flea control right away, then contact us at All Solutions Pest Control. Our professionals know how to handle the flea problem in your home and can safely and effectively remove them in no time. Contact us today for all of your flea control problems in St. Peters, MO.
Flea Solutions for St. Peters and St. Charles County
In addition to providing local pest control in St. Peters MO, ASPC also services all of St. Charles county including:
Give us a call today we would love to be your St. Peters pest control partner! 636-486-7888
44 Jason Ct, St Charles, MO 63304