Termite Control St. Peters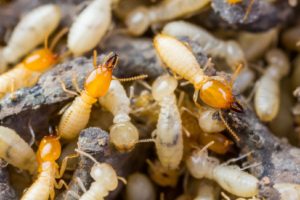 When you find termites on your property, you want to get rid of them as quickly as possible. By the time most homeowners find these pests, the termite infestation has gotten pretty big and it is time to contact a professional termite control company to handle the work in St. Peters, MO. At All Solutions Pest Control, we can provide all of the termite control that you need, no matter how big or small the infestation is.
How Termites Get Into Your Home
There are different ways that termites are able to find their way into your home. They, like a lot of other pests, are going to like moisture and food that is left around so it is best to avoid these as much as you can. Some of the main reasons that a termite is able to get into your home includes:
There is high moisture around to attract them in.
You have wooden fixtures around the home that are in contact with moist soil. This makes an easy way for the termites to get into the home.
There are cracks on the outside of the home that the termites can crawl right through.
Gutters that are clogged can lead to damp damages in the house that allow the termites to get in.
Untended gardens that are not taken care of. Mulching piles, felled tree stumps, and overgrown bushes can be attractive to these pests.
You live in an area where termites are already common.
If you have some of these common problems, it is important to find the right solution to remove them. Keeping moisture away from your home is important. But calling in a termite control professional in St. Peters, MO can be a great way to keep your home safe and clear of these pests.
How to Remove Termites On Your Own
There are a few things that you can try out to remove any termites from your home. If the problem is severe, you may need to consider termite control by a professional. But you can try a few home remedies and options ahead of this.
One popular method to use to help get rid of the termites that are around your home is to treat the soil with a termite insecticide. This makes the soil around your home less friendly to the pests so they are less likely to stay around. You can also treat wood around the home in a similar way if there are already termites inside.
There are also some termite baits that are strategically placed around the yard to help lure away the termites. Once there, the termites are going to be covered with a growth regulator. It takes some time though so the termites will go back to the rest of the colony and can make them sick as well.
Some of the other options that you can try include:
A foam agent that you can inject into smaller areas that are hard for a liquid pesticide to reach.
Dust agents can be added to an area where the other two options will not work.
The best way to deal with the termite problem that you have in your home is to hire a termite control specialist. They can make sure that the termites are kicked out of your home and will not come back. They can also provide you with a few options and solutions to make sure you never have a termite problem again.
Hiring Termite Control in St. Peters, MO
Often, when you find termites in your home, it is best to call in professional termite control in St. peters, MO. They have all the tools to safely remove the termites who are in your home and can make sure that these pests do not come back. Home remedies for removing termites can be difficult to handle and often do not work as well as we would like. Working with a professional will ensure that you can remove every trace of the pest.
At All Solutions Pest Control, we can provide you with the termite control that you need in St. Peters, MO right away. We understand that keeping moisture away is difficult sometimes and that termites can be a big problem. Our team can come to your home or property and remove the termites quickly and efficiently. Contact us today to get started.
Termite Solutions for St. Peters and St. Charles County
In addition to providing local pest control in St. Peters MO, ASPC also services all of St. Charles county including:
Give us a call today we would love to be your St. Peters pest control partner! 636-486-7888
44 Jason Ct, St Charles, MO 63304