Silverfish Control St. Peters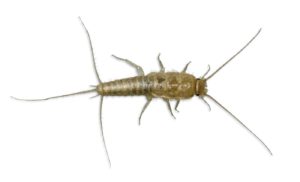 When you see an infestation of silverfish in your home, it may seems like an impossible task to get rid of them. But with the right silverfish control company in St. Peters, MO, you can remove the pest and get your home back. At All Solutions Pest Control, we can provide the silverfish control that you need in no time.
What are Silverfish?
Silverfish is a small insect. It has a light grey color and looks almost like a fish with the way that it moves around. It likes to live on lots of carbs, including starches and sugar, which is one of the main ways that it will find its way into your home. If you like to leave food around at all, it is more likely that you will get some silverfish into the home.
These pests can be really annoying to have around. And if there is food and moisture around the home, it is likely that you are going to end up with a big infestation. They can take over quickly and many homeowners find that they will wake up in the morning and find a bunch of these all over the place.
If you find these pests around, it is often best to find a silverfish control specialist to come to your property in St. Peters, MO to help remove them. They have the right tools to get this done quickly and efficiently so the infestation does not get worse.
How to Prevent Silverfish
While working with a professional to remove the silverfish is the best option, there are a few options that you can try to help remove the silverfish on your own. The first method is to eliminate any areas of humidity or moisture. A dehumidifier is a good option to try first or you should fix any of the dripping pipes or faucets. Since moisture helps the silverfish to thrive, it is best to remove it so they have nowhere to go.
You also should keep the clutter around your home to a minimum, especially where your valuables, papers, and books are stored. It is possible for the silverfish to get attracted to this area and then you have a big mess with all of the damage.
And finally, you need to seal off all of the areas around your home where the silverfish may try to get int. this means that you should have a good seal around the doors, windows, and foundation of the home to keep everyone safe and the pests out.
If none of these work and you still find that there are silverfish around your home, then it is time to call in the professional silverfish control specialists to handle the problem. They will know where to look for these pests and can ensure that you get it all taken care of efficiently and quickly.
Can I Control Silverfish On My Own?
If you want to remove the silverfish on your own, there are a few steps that you can use. These include:
Leave out some starchy food in a glass container, wrapping the outside with tape. This gets the silverfish to go into the jar and then get stuck on the way. Then you can take them out of the home and clean up.
Roll up newspaper: You can wet it so the silverfish will get into this and make a home. Throw this out after a few days.
Use stick traps: The pest will try to crawl in and will find themselves stuck in the process.
Leave out poison: This can kill the silverfish, but you should not use it around children or pets who may try to eat it.
Use cedar oil or cedar: Add some water to this and use it to clean the home. The silverfish do not like the strong smell.
Spread dried bay leaves around. Most pests do not like this smell at all.
Hiring Professional Silverfish Control in St. Peters, MO
If you have a silverfish infestation in your home, it is the best option to hire a professional silverfish control in St. Peters, MO to help remove the problem. This is the quickest and most efficient way to remove the problem and get your home back to normal. At All Solutions Pest Control, we are able to provide all the silverfish control that you need in the area. Our professional team can answer your questions and will get rid of the silverfish as quickly as possible. Contact us today to get started.
Silverfish Solutions for St. Peters and St. Charles County
In addition to providing local pest control in St. Peters MO, ASPC also services all of St. Charles county including:
Give us a call today we would love to be your St. Peters pest control partner! 636-486-7888
44 Jason Ct, St Charles, MO 63304