Mosquito Control St. Peters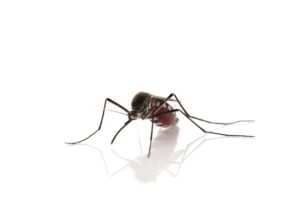 Mosquitoes can be quite a pest. Even though we know to expect them during the summer, they are a nuisance that can ruin any outdoor fun that you want to have. These mosquitoes can attack and even make it difficult to go outside during the late summer. When this happens to you, it is time to call All Solutions Pest Control. We can provide some of the best mosquito control in St. Peters, MO so you can get back outside and enjoy the summer! Give us a call today so we can be your local St. Peters pest control expert!
Why are Mosquitos Bad?
While a few mosquitoes are not that bad, it is important to be careful with these pests being around, especially in large numbers. This is why many cities and towns who can afford it will fog the whole town to keep off the pests. There are a number of diseases that are present in mosquitoes and not being careful about how often you are bitten can make it worse.
Since most mosquitoes will bite several people, as well as different animals, throughout their lives, and they enjoy the blood of these creatures, it makes sense that they carry a ton of diseases around with them. When you are bitten quite a bit, it can lead you to get really sick. Not only do these mosquito bites itch and hurt like crazy, it is possible that they will spread diseases like H1N1, West Nile, and more.
Using a professional mosquito control company in the area when you have too many of these pests around is one of the best ideas to keep your whole family safe. These services will make sure that the mosquitoes are not able to attack you or come after you at all, killing them off and making it easier to enjoy your backyard, no matter how bad the mosquito population is that year.
What Attracts Mosquitos?
There are a few things that are more likely to attract mosquitoes to your backyard. Standing water is one of the big things as is food and lots of people. If you spend time outside and there is some kind of standing water, such as from a small pool, then it is likely this pest will be there.
Carbon dioxide, which humans breathe out when they exhale, can attract mosquitoes as well. And your sweat may be enough to bring the pests to the yard. Since all of these are normal human functions, it is sometimes hard to prevent the mosquitoes from entering into your backyard. Finding the right mosquito control will ensure that you can be outside without a bunch of these pests attacking you at the same time.
Can I Keep Mosquitos Away on My Own?
There are a few things that you can do to keep these pests away from your home on your own. And most homeowners will spend at least a little time trying to do these and they can be successful. If the mosquitoes are bad for one year though, you may still need a professional as the other methods will not work as much as you would like.
Spraying your yard is a good place to start. There are several options that help with this, including tiki torches with citronella, fogging, and bug spray. You should wear some of this on you during the summer so you are protected no matter where you go.
Keep all standing water away from the bugs as well. They like to get as near to this water as possible. If there is a ton of it around, including water found in a pool your children use, then this will attract them right to the yard. Consider removing the water or at least covering up the pool to prevent problems.
If you try all of the suggestions for removing mosquitoes from your yard and nothing seems to work, then you should consider mosquito control in St. Peters, MO. They can help use special chemicals that are harmful to the pests, but not to you, allowing you to enjoy your backyard area again.
Calling Professional Mosquito Control Near Me
No matter how hard you try some years, it seems like the mosquitoes keep coming back and just will not leave you alone. This is when it is time to contact professional mosquito control near you. At All Solutions Pest Control, we can take care of all the pests and mosquitoes so you can enjoy your backyard again. If you are looking for mosquito control in St. Peters, MO, then contact us today to get started.
Solutions for St. Peters and St. Charles County
In addition to providing local pest control in St. Peters MO, ASPC also services all of St. Charles county including:
Give us a call today we would love to be your St. Peters pest control partner! 636-486-7888
44 Jason Ct, St Charles, MO 63304